Update 5/19/2021
Many things have happened recently, and thus life has brought about hardships and adversity.
But to live is to suffer and to overcome that suffering we seek some meaning for that suffering, sadly I have not found the answer. 
Thus, I shall continue to write music and express these feelings through that music however I can.  
 In my hope not to sound pessimistic, which I think I am failing at, I will try my best to push myself into a better state of mind and body. 
Yes, there have been a lot of changes for me mentally and physically, but I have to remember who I am. 
New music coming soon, my wish is to have the second half of the album finished by its release date of 8/05/2021. I shall return! 🔥 
Official Lyric Video is Out! 😏
The official lyric video for the single "Meaning In Meaninglessness" is officially out! 
I am extremely happy with how it came out.
This song was a tribute to a friend that I sadly lost in 2018.
Emmanuel "Manny" Carmona who I was in a band called WHOREGOD.
We became very close friends.
I'm glad that I could do this and immortalize him in this way. 
New Studio! New Adventures!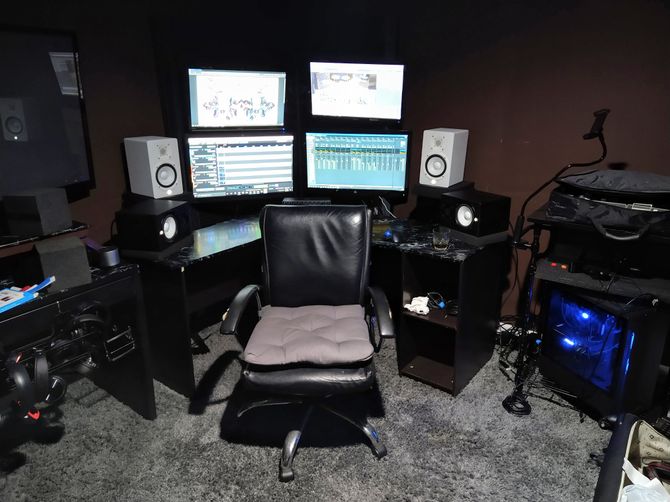 It's been an interesting journey thus far, to say the least. As I am writing this post, I've had surgery and I'm still in the hospital due to some issues. Before I went into surgery, I tried to set-up most of my new home studio and get most things running so I did not have much to do after I get home. 
I expect to be home soon enough and get this new journey started. I'm still very weak, but the thought of my partner Sara and our new home waiting for me, its a boost of energy.
Most likely, no one but my close family knows what I am going through at the moment, and that's how I like it. I am very private and I prefer not to worries others. That's just how I am, I do whatever I can to get through whatever situation there is without burdening anyone. I hope I come out okay out of this situation so I can return home and keep pushing forward and keep creating things that I can be proud of. Stay strong my people! 
Goodbye to "The Dungeon" ⊙▂⊙
Hello, some time has passed and changes have occurred. As of 1/15/2021, "The Dungeon" home recording studio for JPS Productions is no more. ლ(ಠ益ಠლ)
Because of life, the wifey and I had to move and so I had to pack up my home studio. A lot of great memories were created there. My first EP, The Monster was fully produced there and half of my upcoming album "Violating The Norms Of Reality" was also produced there. 
The good news is that I am putting together another home studio at the new place, lets see what we'll call that. I will take some time to set up, but I know it"ll be as great as "The Dungeon" or even better. (´∪`*)
I also have some personal stuff going on, I have a surgery scheduled at the end of January and I hope all goes well. The school will be starting again for me soon so that will also take up a lot of my time. Wish me the best, hope to update you soon. Stay heavy, stay metal! ✌(◕‿-)✌
Update before 2021 come in!
it's here! 11/13/2020 meaning in meaninglessness is out!
Single Release! Friday, 11/13/2020